Boobie's herb butter chicken and veggies. Garlic herbs butter roast chicken with veggies , Easy to prepare!😊. Try it on steak, chicken, pork, corn, potatoes etc. Place butter on a piece of plastic wrap.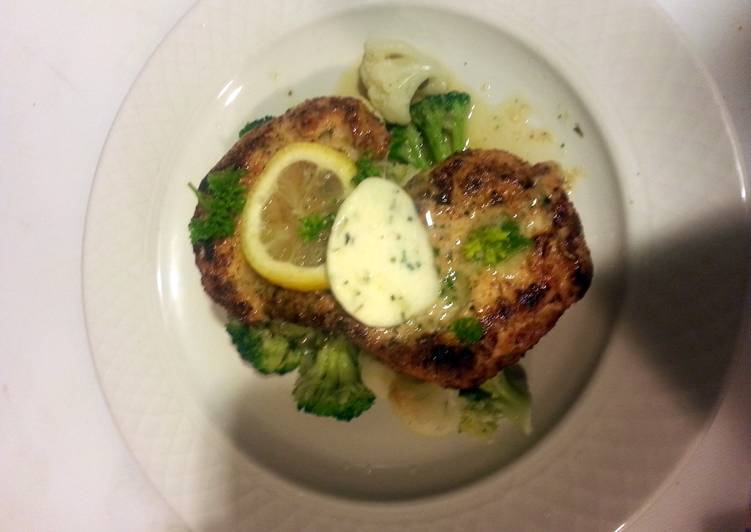 Lay out large piece of plastic wrap on clean counter. Brush chicken breasts with extra virgin olive oil and season chicken breasts with kosher salt and freshly ground black pepper. He just knows that the garlic herb butter here is awesome sauce. You can cook Boobie's herb butter chicken and veggies using 6 ingredients and 8 steps. Here is how you cook it.
Ingredients of Boobie's herb butter chicken and veggies
Prepare 4 of chicken breast.
It's 1 each of Herb Garlic Butter.
It's 1 pinch of Montreal chicken seasoning.
Prepare 1 each of Lemon(for garnish).
It's 2 tbsp of Vegetable oil.
Prepare 1 bunch of Fresh Broccoli and Cauliflower.
That's all that's really important here anyway. Perfectly seasoned and cooked steak with asparagus and mushrooms, served with a heavenly garlic herb butter! Chicken and your veggies coated with garlic and herbs and baked to perfection. Add remaining butter to to skillet along with remaining herbs.
Boobie's herb butter chicken and veggies instructions
Turn stove on medium low heat.
Pour in 2 tbsp oil until nice and hot.
Add ur four chicken breast sprinkled with your Chicken Montreal seasoning.
Saute chicken breast about 20 minutes flipping half way.
In another large pot steam ur broccoli until soft. U can use a Blanche and shock method to stop cooking brocolli(overcooked brocolli doesn't taste too good).
Place brocolli on a plate and then layer chicken on top.
Add herb garlic butter on top.
Soften butter to room temperature add garlic salt thyme rosemary fresh parsley put in fridge until ready to use.
Return chicken to pan and spoon sauce over top. Dab chicken dry with paper towels, then season both sides of chicken with salt and pepper. Gonna try chicken and roasted veggies tonight! Thanks for the inspiration and recipes! Serve chicken on warmed plates, place herb butter on chicken and garnish with rosemary.